Static Stabilizer - Single Phase
A voltage stabilizer is an Electrical & electronic device that supplies a consistent output voltage irrespective of input supply (Depending on Input Range). It protects Electric/electronic appliances from under and over /under voltage supply.
Static Voltage Stabilizer or Static voltage regulator or IGBT Voltage Stabilizer is same as servo voltage stabilizer but without any moving part Like Servo Motor / Variac with correction voltage 4000V to 8000V Within the duration of one waveform i.e. 20ms The chopping frequency ranges around 20 kHz that ensures absolute silent operation of the SVS and a pure sine wave output. The voltage correction speed of static voltage regulators can be up to 500 times faster than a servo stabilizer. But in Servo Stabilizer correction in output voltage achieve with help of moving Brush Through servo motor hence correction speed 100V/S Maximum (Depending on Variac Gear and Motor Gear). available for indoor type as well as an outdoor type.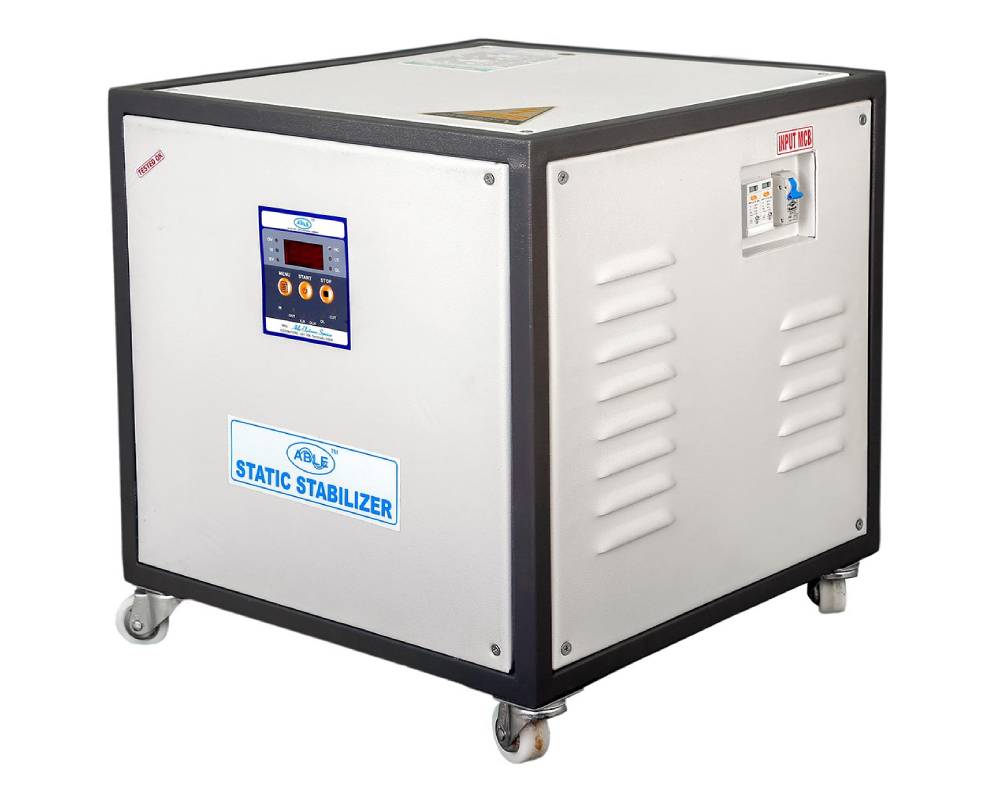 Technology Difference between Servo Control and Static Control
| | | |
| --- | --- | --- |
| PARAMETER | SERVO CONTROLTECHNOLOGY | STATIC CONTROL TECHNOLOGY |
| Correction Speed | 100V /Sec Max | Above 5000V/Sec |
| Correction Time | 1 Sec To 10 Sec | 20ms (One cycle) |
| Sag Elimination | No | Yes |
| Moving Parts Used | Variac, Motor | Nil |
| Auto Bypass | Nil | Inbuilt with Zero Transition Time |
IGBT static stabilizer is designed to regulate the voltage level automatically. It also protects the load against voltage surges, over-voltage, under voltage, smoothing impulsive noise. It comes with following major components
1.Buck Boost Transformer
Buck and boost transformer are connected to the system. The primary buck boost transformer is connected to the IGBT power stage in such a way that voltage induced across the secondary buck boost transformer can add or subtract with input voltage.
2.IGBT Power Stage
It consists of IGBT Bridge which is connected to DSPIC. It is responsible for the generation of correction voltage with help of PWM method. As the output of the IGBTs is fed to the primary of the transformer, the voltage induced across the secondary of the Buck-Boost Transformer can be added or subtracted as per the required voltage needed at the load.
3.Control board
The control board is used to give PWM to drive the IGBT. It incessantly senses value of input voltage, output voltage, load current, and IGBT current with help of a current transformer and voltage transformer connected to it. And this processed information is given as a feedback signal to the IGBT power stage to generate desired voltage and duty cycle with help of the PWM method. The system temperature is also continuously monitored to enable the Auto bypass option when it exceeds the set value.
4.Display board for 3 Phase
It is a two line LCD, which displays the following parameters.
Input VLL and VLN
Output VLL and VLN
Output load current
Frequency
System status
Error log for fault condition (100 log storage)
5.LED indications
The specific error indications like Phase failure, Phase reversal, and Overload and system status are indicated using LEDs.
1. Regulator Type : IGBT.
2. Response Time : 10 ms.
3. Speed of Correction : 20 ms.
4. Capacity : 2KVA to 50KVA.
5. Input Voltage Range : ±25%/20% /15%/10% of output Volts, P,N & E.
6. Output : 220V/230V/240V Phase voltage, P,N & E
7. Output accuracy : ±1% .
8. Frequency : 47 to 53Hz.
9. Efficiency : Above 98% (above 20% Rated Load)
10. Output Voltage Waveform : Free from any spikes / surges and EMI .
11. Surge Protection : Class II 40KA / Customer Requirement.
12. Overload Capacity : 125% for 1 minute.
13. Display / Indication : Input Voltage, Output Voltage, Output Current, Frequency, and Parameters are Display for Digital display.
14. Protection : Overload, Output High/Low voltage, Input High /Low Voltage, short circuit protection through MCB/MCCB.
15. Operating Temperature : 0 to 60 Deg C.
16. Cooling : Forced Natural Air
17. Color : Basalt gray and LT gray
18. Enclosure protection type : IP 21 Indoor type
19. Soft Switch On : Enabled
20. Auto Bypass : Provided (With in Safety Ranges)
21. Manuel Bypass : Provision provided
Engineering & Manufacturing (Railway, Oil & Gas, Construction)
Metal Cutting (CNC&EDM)
Textile & Apparel (Weaving, Knitting, Spinning, Dyeing & compacting)
Hospitals, Labaratories & Bio Medicals
Retail Showrooms, Restraurents
IT
Agriculture
Fuel Stations
Domestic Applications